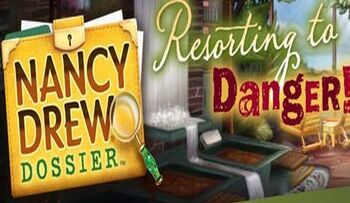 Nancy Drew Dossier: Resorting to Danger is the second installment in the Nancy Drew Dossier series. It is made as a mixture of point and click, finding puzzles, and talking puzzles. It was made by Her Interactive and was released in August 2009.
The Resorting to Danger Games Page said this about the plot:
You, as Nancy Drew, must stop a bomber from ruining the Redondo Spa clients' rejuvenation and relaxation. The high maintenance clients won't be happy if they find that their retreat is about to explode, even if the bombs are more prankster gross-outs than dangerous.
Now, Nancy Drew is undercover as the spa gopher catering to the customers' eccentric requests while defusing bombs. From celebrities who escape here to the receptionist at the front desk—everyone is a suspect! Who is sabotaging the spa and can Nancy catch the culprit before the spa loses all of its clients? The game also includes six different endings for all different characters depending on what you do and say.
Cassidy Jones: The receptionist of the spa who really dislikes the clients. Could he hate them enough to bomb them?
Nick Bleski: The manager of the spa and Nancy's boss. He is stealing money from the Redondo. Could he have set off the bombs to cover up his scam?
Mrs. Montague: The spa's biggest client. She is upset that the Redondo treats her dog Mr. Mingles poorly. Would she set off bombs to get back at the Redondo?
Helfan Helgason: The biochemist of the spa. He wants so badly to get out of his contract so he can get into cosmetics. Would he set off the bombs so it would close down?
Jasmine Ivy: A well-known actress that is staying at the spa. She has been getting threats. Are the threats and the bombs for publicity?
Joanna Brown: The janitor of the spa. She really dislikes Jasmine for rejecting her brother's movie. Would she set off bombs to get back at Jasmine?