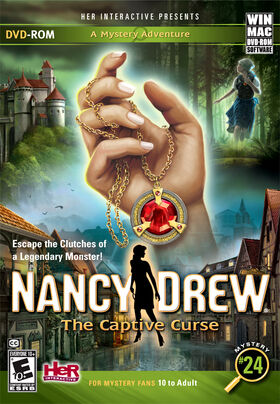 The Captive Curse will be the 24th Nancy Drew game. It will take place in a castle in Germany that seems to have a frightening past.
It is foreshadowed in Shadow at the Water's Edge the 23rd Nancy Drew game, during a conversation with Savannah Woodham. When Nancy asks her what is the scariest thing she has ever seen while ghost hunting, Savannah responds with a story about a creepy German castle, which is assumed to be the castle featured in The Captive Curse.
In the teaser trailer at the end of the previous game, Shadow at the Water's Edge, the following narration is heard: "Residents of a German castle are being terrorized by a fearsome creature, and it's up to me to crack the case. Once I arrive at the castle, I begin to suspect that there may be more to this monster story than just superstition. As monster sightings become more frequent, and creepy signs begin appearing, I find myself in danger of becoming the monster's next victim. Join me as I try to solve the case, without becoming another entry in the castle's long and grisly history, in my next adventure, The Captive Curse."
Characters
Edit
Nancy Drew: Nancy is an eighteen-year old amateur detective from the fictional town of River Heights in the United States. She is the only playable character in the game, which means the player must solve the mystery from her perspective.
Karl Weschler: Karl is the Burgermeister (mayor) of the castle community. He is against the Bavarianization of the castle and dislikes the tourists. How far is he willing to go to keep them away?
Anja Mittelmeier: Anja is the castle castellan, in charge of the household and second in command to Karl. She's one strong lady who's not happy with the castle's current leadership. Is her friendly manner hiding darker intentions?
Lukas Mittelmeier: Lukas has earned the title of castle troublemaker who knows all of the castle's hidden areas. Are his antics harmless fun, or does he have something more dangerous in mind?
Renate Stoller: Renate is an old fashioned storyteller who travels around the local countryside practicing her craft. Well-versed in the monster legend and the castle's dark history, is she bringing her own tale of terror to life?